FOOD BASKET AMBROSIA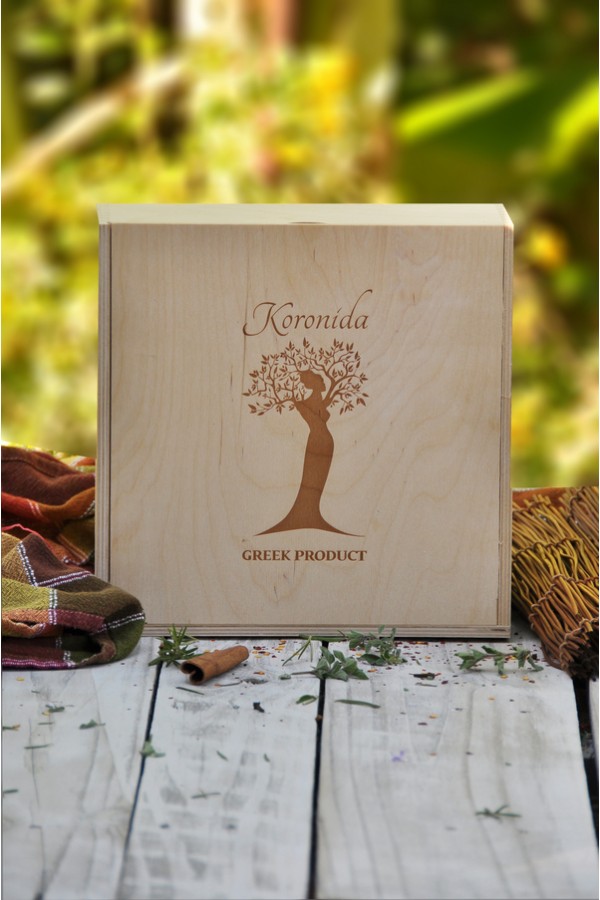 Hellenic Organic Food has chosen carefully products from Kalamata that are the costumer's first choice (especially if the costumer follows the Mediterranean diet) known for their health protective properties, nutritional values, taste and aroma that you cannot find anywhere in the world.
You can offer it to you and your loved ones even to your colleges and employees as a gift in a beautiful casket. We also have the capability for companies to imprint their desired logo or text.
The result will be a high value gift with its premium products for you to impress your coworkers.
(For your logo's imprint the minimum order is 10 caskets).
The basket contains the following products:
Organic extra virgin olive oil 250ml <<KORONIDA>>


From our organic olive groves, the olive oil is exported at first pressure and below 27 C, it has a deep dark green color from unripe olives harvested in November, it is fruity with an instant spicy bite while being swallowed ,the olive groves are not sprayed with fertilizers the only fertilizer used is manure, pruning and cutting the greens.
Organic grape juice syrup 330gr

Selected from the grape yards of Messinia. Varieties worth: cabernet, merlot, syrah, Agiorgitiko.
It is a natural source of iron, resveratrol, (youth elixir), vitamins and antioxidants.
Use it in shots for an immediate energy boost.
Add it to yogurt, ice cream, salads, cocktails and pastries.
It is widely used in cooking and marinating various meats.

Balsamic Glaze 250ml

It is a sweet and sour flavored syrup with a syrupy texture, based on balsamic vinegar and concentrated must
Olives kalamata 200gr <<KORONIDA>>


Product of high nutritional value
Traditional olives from Kalamata 200gr
A product of high nutritional value, they are crunchy with a rich aroma and they lose their bitterness with constant changes of water. They are preserved in a bit of salt, olive oil and vinegar made from red wine. They are an ideal source of vitamin A and E, calcium, phosphorus, iron, magnesium, and sodium.
Edible Kalamata olives are the best variety of black table olives in the world and is a source of energy and longevity and has the Highest antioxidant action.
The olive has 10 times more antioxidants than olive oil.
All olives are not the same. Each olive variety differs not only in taste but also in calories and nutrients (particularly in the amount and antioxidant action).
The brine in which olives are placed to lose their bitterness is a good source of polyphenols. Therefore, we do not throw it away. Use it for marinades, as broth to cook meat or as vinaigrette in salads.
The calories are calculated at 212 per 100 g. of pitted olives (20 large or 30 small olives), according to the Laboratory of Chemistry - Biochemistry - Physical Chemistry of Food of Charokopeio University.
Spread of Kalamata Olives 190gr <<KORONIDA>>


Product of high nutritional value
Spread of Kalamata Olives, extra virgin olive oil and aromatic herbs
Ideal source of vitamin A, calcium, phosphorus, iron, magnesium, and sodium.
The rich taste of the olive, with the combination of extra virgin olive oil and aromatic herbs make it one of the best dishes of Kalamata.
It goes well with gourme dishes on toasted bread, salad, pasta, tomato sauce, beans variety of cheese, meat, fish, and they are not missing any Mediterranean dish.