500ml KORONIDA GOLD EXTRA VIRGIN OLIVE OIL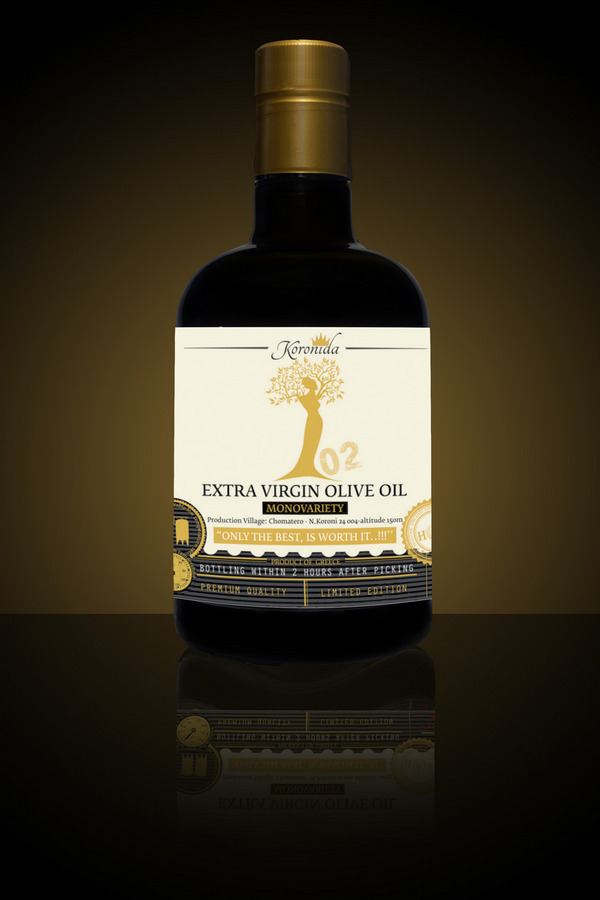 OLIVE OIL FROM OUR CENTURIES OLD GROVES

500ml KORONIDA GOLD EXTRA VIRGIN OLIVE OIL <<KORONIDA>>

After eight years of active export activity in olive oil, half a century of our involvement with olives and their cultivation and hundreds of years of expirience from our ancestors who cultivated the olive tree, we made an extra virgin olive oil from a specific estate in an area famous for its quality in olive oil, with deep green color, unfiltered, with rich fruity taste, high spicy sensation when swallowed in the pharynx.
We put it in a bottle that will protect it from light and oxygen, to keep its ingredients intact and unchanged. If we could describe the taste that the consumer perceives when he tastes it, it would be a feast of colors and a dance of the senses.

Hellenic Organic Food puts its heart and soul into making unique products and make them available to any person, that loves quality and functional foods with properties that promote health and reduce the risk of disease.
Every product we make is handmade and we pay great attention to the essence of things, so that the consumer has the maximum experience to his senses from the organoleptic ingredients and the maximum benefits to health protection characteristics of the product.

Hellenic Organic Food boxes only single variety extra virgin olive oils after a thorough control in the field and careful selection of the fruit with strict quality criteria.
Our saying "only the best is worth it "makes us look for small improvements in every step of the process. It fills us with confidence every day to walk in our history, improving practices of the past, and at the same time following the current data. Trying to innovate and offer new products to the market.
The experience of so many years from generation to generation and the origin of our ancestors from the Chomatero (famous small village in the heart of Koroni, with a special microclimate that marries the sea breeze, the breeze of the mountains around it, and the great sunshine) have as a result to produce the best olive oil in the world.
This prompted us to put in a nice dark bottle, uvag, the raw olive oil, within two hours after picking as soon as it comes out of the spacer, to trap in a bottle as much aroma and flavor as we can.
* The package from authentic beech wood costs an extra 10 €