250 ml EXTRA VIRGIN OLIVE OIL <<KORONIDA>>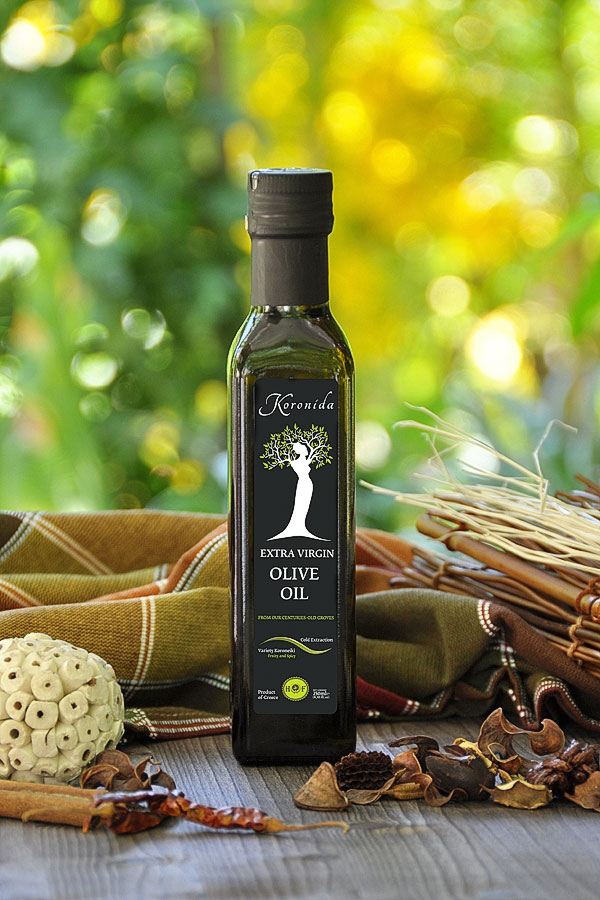 FROM OUR CENTURIES OLD GROVES
Extra Virgin Olive Oil 250ml <<KORONIDA>>

From the olive variety Koroneiki Our olive groves are located in Kalamata and the bay of the wider region of Koroni which is a coastal town of Messinia.
They lie 52 km southwest of Kalamata including non irrigated trees, both mature, hundreds of years old, and young of the Koroneiki variety.
Grown traditionally in our ancestors' land (nothing is coincidence a since that variety took its name from the small coastal town) and the microclimate created in the region with the sea breeze passes through our olive groves and the gentle rain create the magical, ideal scenery for the proper development of the olive.
The olives are harvested by hand (without stressing the tree) from November to December, and the olive oil is produced in the cold at a temperature below 27 degrees Celsius. This results in producing one of the best Greek olive oils due to soil composition, climate conditions and sustainable cultivation techniques. The pressing is done on the same day and kneading of the olive paste in up to 30'. In the product which is exported the acidity is 0.3%, and the K232, K270 etc. at the lowest levels, with rich organoleptic components.
It has a deep, bright green color and a fruity, bittersweet taste. It leaves a spicy sensation in the throat and a hint of various fruits, rich in health protecting polyphenols, elaiokanthali and elaiasini (Note that Elaiokanthali and Elaiasini agents have significant biological activity. Anti-inflammatory, antioxidant, cardioprotective and neuroprotective properties are ascribed to them) and thus:
It is a product of high nutritional value, which is classified in the premium category.
The olive oil is the basis of the Mediterranean diet. The richness in polyphenols, vitamin E, fruity aroma and slightly spicy taste, make the olive oil not just an ordinary olive oil, but a herbal supplement that is very beneficial for our health.
The daily consumption of olive oil strengthens the body defence against viral infections and other diseases, contributes to lower total and bad cholesterol, protects against heart disease and could predispose to lower blood pressure and provide wrinkle protection.
The use of olive oil in the pan is recommended over any other oil or fat as it is more resistant to high temperatures. To get the maximum benefit, it is advised to consume it raw and to add it at the end of cooking.
It is suitable for a healthy diet, rich in monounsaturated and cholesterol-free, ideal for white meat, grilled fish, pasta, cold sauces and vegetables.
Our competitive advantage is the combination of excellent quality at real low price offering unbeatable value.
SERVING SIZES
Serving Size - 1Tbsp
15ml
Service per Container
16
CALORIES (100ml)
Calories
824Kcal / 3389Kj
FATS (100ml)
Total Fats
91,6gr
Saturated Fats / Total
12,8gr / 91,6gr
Monounsaturated Fats / Total
70,5gr / 91,6gr
Polyunsaturated Fats / Total
8,3gr / 91,6gr
CARBOHYDRATES (100ml)
Sugar
0,0gr
PROTEINS (100ml)
Proteins
0,0gr
SALTS (100ml)
Salt
0,0gr